Situational dance stunts X contemporary circus tricks
Happiness and pain are intertwined in life; why not treat it as a game and bravely be yourself?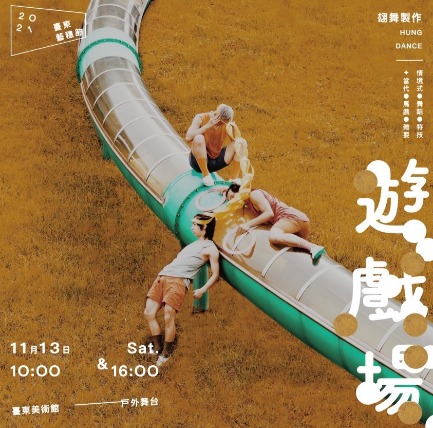 Life-Playing Game
Performance Times: 2021/11/13 (Sat), 10:00 & 16:00
(Performance length is approximately 40 mins., with no intermission)
Venue: Taitung Art Museum – Outdoor Stage
(No. 350號, Zhejiang Rd, Taitung City, Taitung County)

*Free Admission*
Do you remember the innocent playtimes of childhood? As we grow up and face challenges and choices, happiness seems to be harder to achieve.

We invite you to join our "Life-Playing Game" on an outdoor stage, with a backdrop of Taitung's mountains and the sea. Let's play together a humorous and exciting game, filled with imagination.

Together, we will recall the fun of childhood and difficulties of growing up, enjoying every moment of life!

Advised by│Ministry of Culture
Hosted by│Taitung County Government
Organized by│Taitung County Cultural Affairs Department
Implemented by│Hung Dance